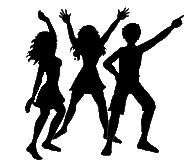 Let's tear up the dance floor!
We're teaming up with Franklin County Recreation to help with their monthly dance for individuals with disabilities. Volunteers will dance and socialize, help with set up and tear down, and serve refreshments. This will be a great interactive event to help our neighbors with disabilities have a fun evening out!
When: Friday, March 9, 2017, 6:30 -9 PM
Where: Dublin Community Rec Center, 5600 Post Rd. Dublin, OH 43017

Event Leader: andy@columbusgivesback.org

Volunteers Needed: 10
What to expect: Volunteers are needed to dance and socialize, assist with set up and tear down for the dance, and serve refreshments.
Dress: casual!
About Franklin County Recreation: The purpose of Franklin County Recreation is to promote community activities, leisure time and social opportunities for adults with developmental disabilities, and to help recreation members connect to opportunities in their community.
Dances are a very popular activity that gives volunteers and adults with developmental disabilities a place to socialize, spend time with friends, and enjoy a high-energy atmosphere. All dances have a professional DJ and refreshments.