Join Columbus Gives Back for a night at the Heinzerling Foundation.  The Heinzerling Foundation is a community of residents with developmental disabilities. This is a monthly favorite of ours where we play board games and other fun activities. For September though, we are in an extra-special treat: a live music performance by local guitarist Chris Sullivan! We will need your wonderful volunteers to help get our residents from the building down to our shelter house, sit/dance with them during the performance, then push them back to the building.
Unlike most of our events, this will involve personal contact with those that we are serving.  It is a truly rewarding experience.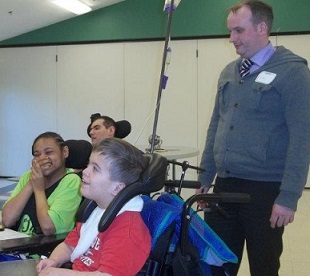 When:  Wednesday, September 19th from 6 PM to 8 PM
Where: Heinzerling Developmental Center, 1755 Heinzerling Drive  Columbus, OH 43223.
How to find the group: Meet in the front lobby at 6PM.  Volunteers will sign in and then tour the facility before the night begins.
After the event: We will gauge interest and go out for food/drinks afterward.
Event leader: Morgan@columbusgivesback.org and Caleb@columbusgivesback.org

About the Heinzerling Foundation: The Heinzerling Foundation is a private, non-profit organization dedicated to the care, education and treatment of individuals with multiple developmental disabilities.
About Columbus Gives Back: Columbus Gives Back makes volunteering fun and easy! We organize one-time volunteer events in relaxed, social settings that are scheduled to fit working professionals' busy schedules.
Cancellation Policy: Due to the nature of our events, an accurate headcount is important. Please notify the event leader if you have RSVP'd but are unable to attend the event.