The Autism Society serving Central Ohio will be partnering with the Embassy Suites Dublin to provide a fun and safe environment for special needs individuals and their families to enjoy trick-or-treat. Columbus Gives Back is participating this year and our Trick or Suites room theme is… TO BE DETERMINED! CGB volunteers will be handing out goody bags, dressing up for our theme, and helping the kids have a great time!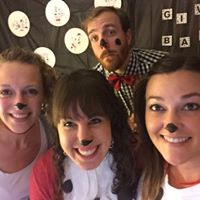 When: Sunday, October 28, 2018, 1:30PM – 5PM
Where: Embassy Suites, 2700 Corporate Exchange Dr. Columbus, OH 43231
Event Leaders: info@columbusgivesback.org
What to Wear: Please wear an outfit to match our theme!
About the Autism Society: The Autism Society, the nation's leading grassroots autism organization, exists to improve the lives of all affected by autism. We do this by increasing public awareness about the day-to-day issues faced by people on the spectrum, advocating for appropriate services for individuals across the lifespan, and providing the latest information regarding treatment, education, research and advocacy.
About Columbus Gives Back: We love Columbus, young professionals, and getting involved! Our mission is to connect young professionals across central Ohio and engage them in our communities through 35-40 social volunteer and philanthropic opportunities per month.
#SocialTwist: After the event, we encourage you to join us for food or drinks and have fun with other cool volunteers like you!
Cancellation Policy:  Due to the nature of our events, an accurate headcount is important.  Please contact one of the event coordinators if you have RSVP'ed but are unable to attend this event.